Reckless For You
God is speaking. And loudly so.
On Monday morning last week I wrote a short reflection during my quiet time. It was a list of vows I prayed through—mini pledges to my wife.
And each morning since, I've prayed for the strength to not screw it up. Not to blow my top. Not to trample on the sweet hearts that run around my house.
I sent it as part of my weekly newsletter. And posted it to my new site, The Edges.
Then, I posted it on my Facebook page, and I'm rarely on Facebook. And then I went to work.
After a few hours, I checked the post; to see if anyone opened the newsletter or found the post. Over 10,000 people had read it by then.
By dinner that same evening my iPhone was receiving a constant stream of emails and texts. All referred to my post. I checked the site, and Facebook. People were sharing it.
Curious, I checked the analytics: 300,000 page views. In a few hours, it went over 600,000. I went to bed. Thankful, but wondering what God was doing.
On Tuesday morning, I made some tea. Then fired up the French Press for my wife, and made some tea.
I checked on the post before firing up my current writing project.
One million page views.
By the next morning nearly a million more people stopped in to read it. As I'm writing this, over 2.5 million people have read the post.
People began asking for permission to repost it, to put it in their church bulletin. A friend printed it out and hung it on his work wall.
Another friend emailed and said how a good friend was leaving her husband, but my "pledge" brought some hope in light of the sadness.
Another emailed and said he was sitting down to write out some of his own vows for his wife.
Another said how much it meant to him and his wife and growing family, and how much encouragement he needs in his marriage on a daily basis.
Another jokingly said how that day she and her husband got into an argument and she told him to go read "the vows." We had a chuckle over that—they are dear friends.
By mid-week I sat down to write down my reflections on this little wave of deep emotion that literally swept through a few million people.
As I typed, I began to sob.
So many of my friends have divorced.
Dear friends, younger than me and my wife. Many through agonizing pain. Some escaping abuse. Some escaping infidelity. Some just escaping.
And my heart breaks. Because who am I?
Just a man who wakes up each day before the girls wake, stands in the shower and asks for the strength to die to myself. To beg for the Holy Spirit to pour over me like the shower water.
Who am I?
I've blown it in arguments towards my wife in years past.
I've said awful things.
I've slammed doors.
I've stormed out of rooms, and the house.
The early years of our marriage were the hardest. My thoughts, my anger, my immaturity. Embarrassing.
But slowly, Christ began to wrench out my immaturity, my self-righteous heart. I could feel it, literally feel it in my bones, in my mind, and most profoundly in my heart. And I believe it happened for both of us.
Years passed, and we began talking as friends. We made decisions, even financial ones, that said, "I will care about you. I will go away with you. I will fight for you."
Relationships live on the currency of time.
We lived in Oxford for two years while I studied for the PhD, and each Friday we hopped on the 4B bus for a date. We walked and talked our way around Oxford.
The simple healing power of a walk. Of gentle talk. Of epiphany. Of surprise. Of whatever was on our minds.
Those two years shine in my memory like the glory of sunlight on wet grass after a hard storm.
By God's grace, we remain best friends, in love, and joined in a way we can't always explain. It's not perfect. We all of us stray.
But love doesn't demand perfection, only the will to work, to engage.
Love rallies around duty, obedience, and readies for the mountain walk with knife and fire prepared to lay my precious on the alter of sacrifice.
And so when I hear of another friend who …
is leaving
cheating
addicted to porn
who keeps drinking too much
I hit my knees and cry out to God. "Why, God! Save us from ourselves. Heal our hearts. Heal our marriages. Give us your strength!"
I weep for my brothers and sisters who find themselves in a place they never thought they'd be.
Who ever thinks they will be in that moment? Of pain. Of betrayal. Of grief. Of resentment.
So now I sit and think about the hearts attached to the numbers. This flood of emotion sweeping in, evidenced by the 2.5 million people who engaged with the post, tells me this …
God cares about marriage. Deeply so.
And he comes now, on the horse of his Holy Spirit, charging in to say, "No, you Devil. You cannot have my children! You cannot have this sacred and beautiful gift I've given to them and them alone!
"I will not let you deceive them with images and stories of false love, false satisfaction, false gods, false success. Go to hell, you Devil.
"I am the Light of the World. Your darkness cannot live anywhere near me. I will strengthen my children, through the simple beauties you cannot comprehend.
"A gentle touch. A whisper of prayer. A confession.
"A man who stands with me even when no one else will—in this lowly place of emptying, of humility. He will not see many around him, but he sees me. And I am enough for him.
"A man like that, you cannot conquer."
"And I will strengthen them through the profound beauties of a woman who walks with me. In those quiet, unseen, and lonely places. Away from the shouts of popularity, and the deceiving lure that whispers to her to 'do it all.'
"No, she sees right through it. And she comes by my side.
"In the cool of the morning we walk through the garden. She sings to me. And she cries to me. And her prayers are the sweetest fragrance coming from the earth.
"I strengthen her with a crown of grace that your flaming arrows of lies cannot penetrate. She fends off your attacks because I whisper truth to her constantly. Truth that breathes life into her confidence.
"She is more powerful than the morning sun to a winter landscape. She melts the hearts of men. She dazzles the world with her grace. And her love.
"She is Tim's love.
"She is the woman across the street.
"She is every woman. In her first marriage. Divorced. Remarried. My grace covers, and covers, and covers."
These words ring in my ears. My learning words. The shepherding words of God.
God is speaking. And loudly so.
What is he saying?
He speaks through hallelujah, in the reckless tones of his splintered love.
His love does not win. It dies.
It does not cry out for what it wants. It takes joy in what it can give.
It does not peddle false courage. It takes up the sword for what is right.
It does not hide. It lavishes, unrestrained.
It is a roaming thundercloud, and the wind upon the mountains.
It doesn't run out. It stays.
It listens.
It remains present.
It pursues its beloved. Through betrayal and divorce, it keeps coming. How can we live up to this love?
We don't.
Christ does for us.
And it's when I find myself, finally in Christ, that I find myself able to stand, to love, to go after my wife with reckless abandon. Unhinged from the world's false glories.
Speak
If you read last week's post, what conversations did it ignite?
My friends think a chord was struck regarding marriage. What is God teaching you about his heart for marriage. Might this also be revealing his heart for the Church as well?
Many emailed and said they were writing their own vows. Did you? Care to share?
PS: I love when folks engage in the comments. But keep it dignified and Godly, please. If your comments do not show respect and thoughtfulness, I will delete them.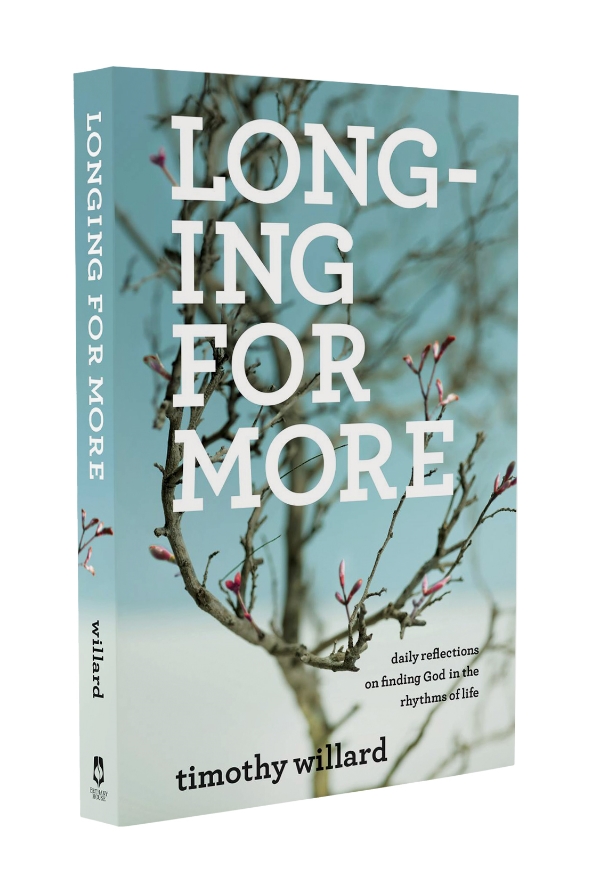 Check out Tim's 52-Week devotional.
You can begin it any time of the year.